DePue Lake Cleanup Project
Update:See the new website: Cleanup DePue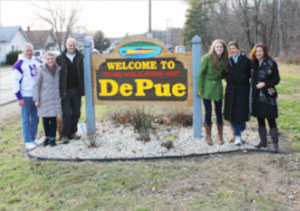 Groundswell is working with residents and the Mayor in the Village of DePue, Illinois. Home to a now shuttered zinc mill and it's vast mound of contaminated waste, this tiny hamlet of 1,800 mostly minorities has been declared a Superfund site. The long promised cleanup, delayed for more than a decade, remains a pipe dream. Contaminants from the waste permeate groundwater and seep into Lake DePue, a precious natural resource.
The Village, local schools, and Northwestern University's environmental law and chemistry programs invited Groundswell to lead a new media campaign that will give voice to residents and put pressure on the responsible parties, Exxon and CBS/Viacom.
The LaSalle News Tribune published an article about Groundswell's new DePue project (see below). Stay tuned for more updates on our new project soon.